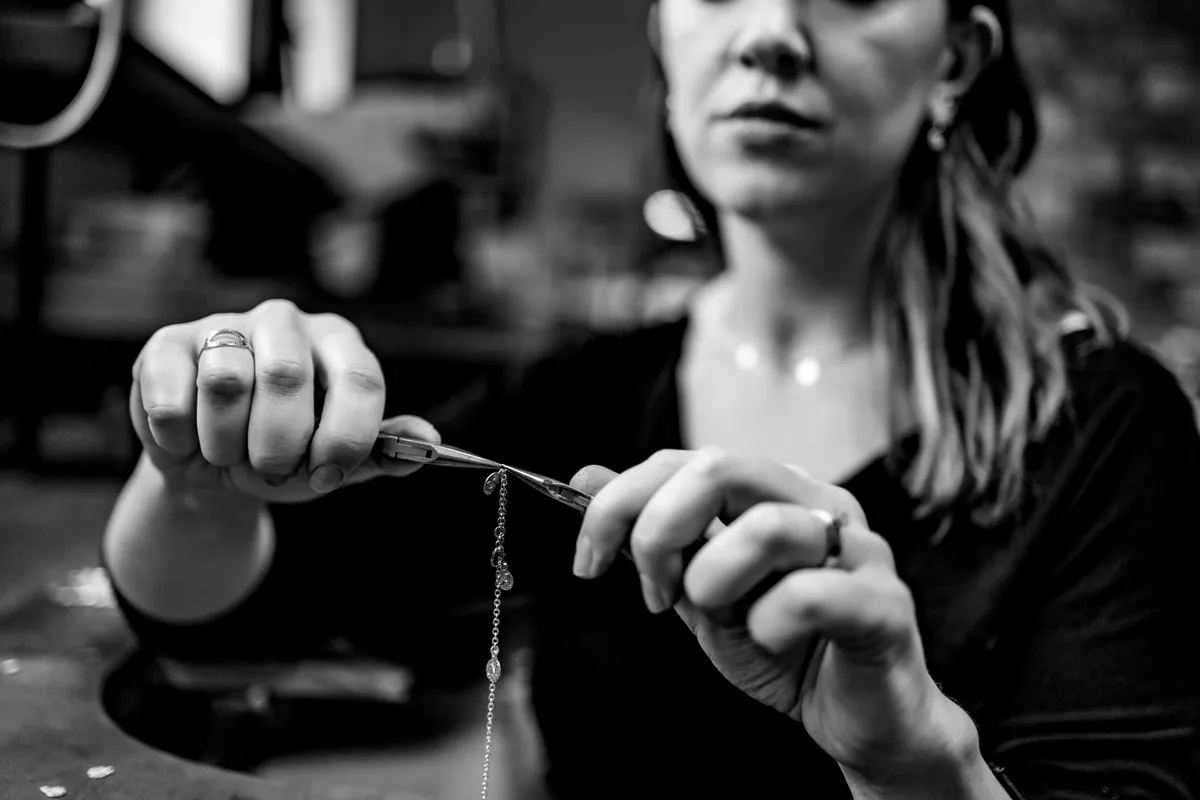 Jewellery care
All our jewellery is made from solid gold and silver, which means it's designed to last a lifetime. But a lot happens in a lifetime, so to keep your treasured Enibas pieces beautiful and sparkling, it's important to show it a little bit of love.

Silver can naturally tarnish over time through oxidation or from the oils in our skin and everyday household chemicals. Gold is much less likely to show discoloration, but oil and grime can dull its shine over time. If you're wearing your jewellery daily (and we hope you are!) then you'll probably want to give them a regular gentle cleaning every few months.

We recommend using a silver liquid cleaning solution to quickly remove tarnish and dirt. It's the best way to dissolve oxidation or discolouration from the metal and remove dirt from any diamonds set in the jewellery. It's called silver cleaner but it's also okay to use on solid gold. Each brand will have its own instructions, but generally you just need to dip the jewellery into the solution for a few seconds, rinse, and then gently wipe dry.

You can purchase silver cleaner from one of our own Enibas shops or in most local jewellers.

DIY JEWELLERY CARE

If you are cleaning your Enibas jewellery at home and don't have access to silver dip solution, we have a simple method you can use to brighten it up using only household ingredients.

1. Mix a bit of mild dish detergent in warm, not hot, water.
2. Carefully brush with a new, baby-size soft toothbrush.
3. Place in lukewarm water to rinse.
4. Air dry or carefully towel-dry with paper towel or regular cloth.

Be gentle during the brushing and drying processes to make sure you don't accidentally damage a clasp or tangle a chain.

WHAT TO LOOK OUT FOR

Love and care for your Enibas jewellery

We want you to enjoy your Enibas jewellery forever. One of the beautiful things about owning something for a long time is that you build a relationship with it. Even something as simple as a bracelet or ring gains layers of precious meaning over time. When something means that much to you, you want to look after it and keep it safe. Our jewellery is made to be loved and worn every day, and a little bit of extra care will keep it beautiful and strong for many years to come:

Store your pieces separately. Use soft lined boxes or pouches for each piece to avoid scratching and tarnishing.

Regularly check your jewellery's fastenings and chains: while sturdy, accidents do happen, and timely repair of any damage will prevent the heartache of a lost piece. If you do need help with repairs, you can contact us here.
Keep your Enibas jewellery dry.
Avoid contact with chemicals, including household cleaning agents. Please avoid chlorine and sea salt. Perfumes, lotions and beauty products should be applied before you wear your Enibas pieces.
If your jewellery does come in contact with any of these substances, rinse straight away.
Your Enibas pieces will benefit from a gentle bath with a mild infusion of liquid soap and tepid water. Use a soft toothbrush to remove any dirt and leave to soak for a minute. Rinse thoroughly and allow to air dry or dry gently with towels.
Rub your Enibas pieces with a soft polishing cloth bring out their natural shine.